About the APR
Process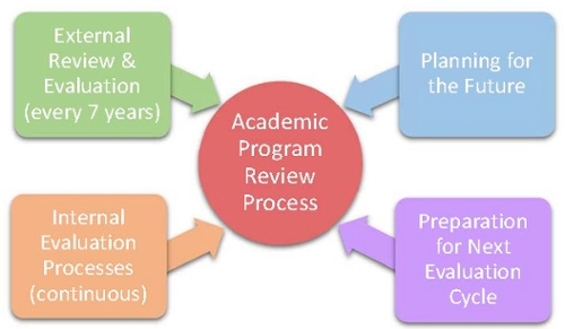 The APR Continuous Improvement Cycle process can be more thoroughly expressed as follows:
One year prior to the site-visit, the unit will be contacted by the APR Office for their Orientation to prepare them for the upcoming year.
The unit prepares a self-study that addresses the following APR criteria:

Introduction and Background Information
Program Goals
Teaching and Learning: Curriculum
Teaching and Learning: Continuous Improvement
Students (Undergraduate and Graduate)
Faculty
Resources and Planning, Facilities
Program Comparisons
Initial Action Plan (NOT INCLUDED IN THE SELF-STUDY REPORT)
In addition to the APR criteria, the Provost Office senior leadership may collaborate in the development of reflective questions that are unit-specific and geared towards highlighting key issues that the unit will be expected to address as both an examination and demonstration of its continuous improvement efforts.
The initial self-study is reviewed by internal participants and feedback is provided to the unit.
The unit, Dean's Office, and Office of the Provost to collaborate in the selection of a review team. The review team usually includes two experienced faculty from other institutions and one faculty from UNM.
The final self-study will be sent to the review team approximately three weeks to the unit site visit.
Following the site visit, the review team has six weeks to draft their report.
The final step will be for the unit, Dean's Office, and Office of the Provost to collaborate in the drafting and approval of the Unit Response and Initial Action Plan.

Unit updates to the Initial Action Plan are required annually and due during the fall semester.